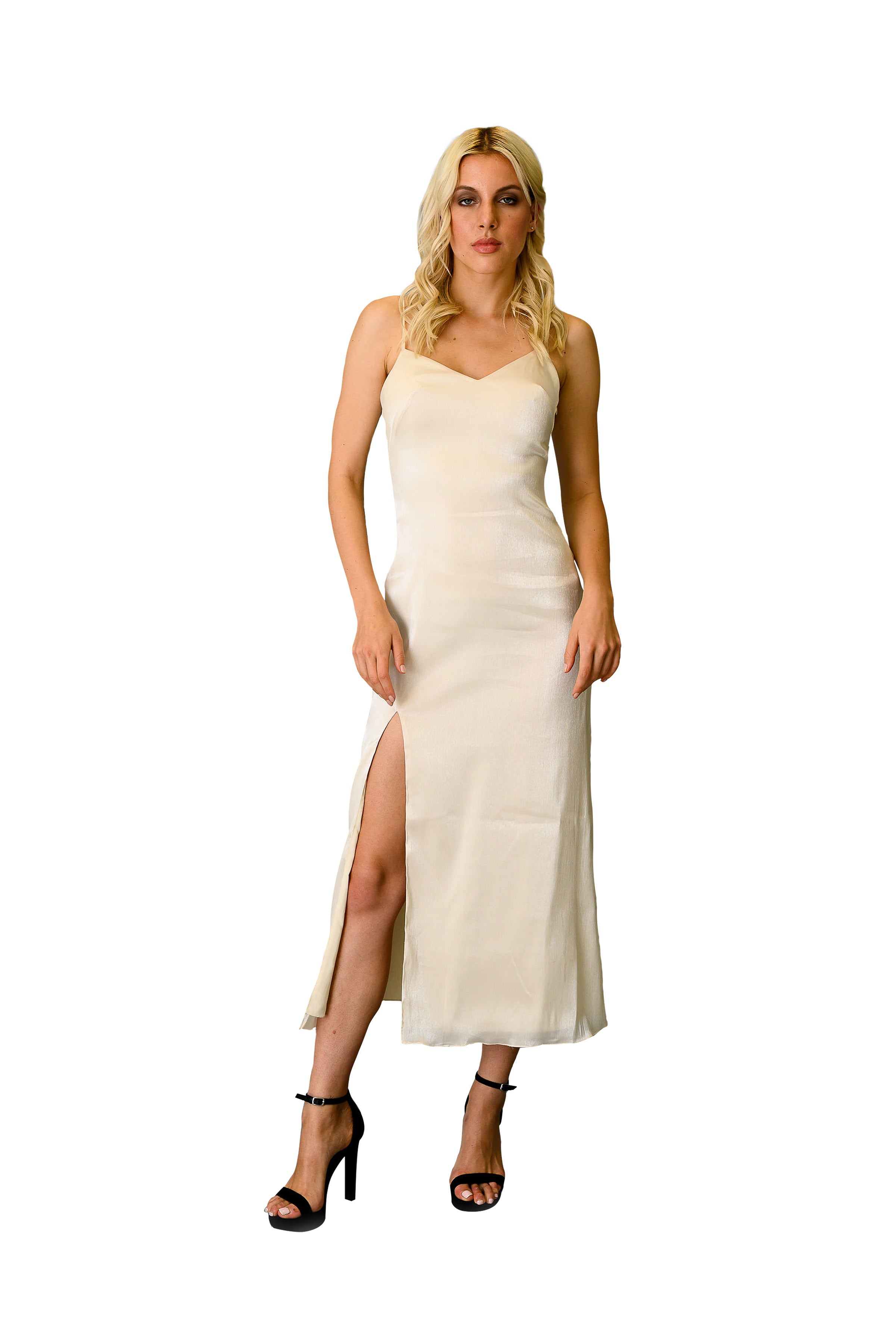 Champagne Camisole Formal Midi Dress
SKU:
slip2-1
You cannot write off the calf-length Champagne Slip Dress at first glance because the closer you look, the more meticulous it gets. Featuring a slit so high yet so low, your audience will be curious enough to sneak glances at you throughout the evening.
 In the Spotlight
Cross between a slip gown and dress
Features a shimmery bodice
Spaghetti straps that can be adjusted for fit
A fairly conventional V-neckline
A side-slit just on the high end
Fabric stretchy enough to be a fluid fit
An almost invisible side closure
Refined hemline
Imported
True to Size.
Model's Size: 4
Height: 5'8" in- Wasit- 26 1/2" in
Size 12- Bust: 38" in- Waist: 30 1/2" in- Hips: 41 1/2" in
 Note: Dry clean or Hand-wash
Size 2- Bust: 33 1/2" in- Waist: 24" inches- Hips: 34 1/2" in

Size 4- Bust: 341/2" in- Waist: 26 1/2" in- Hips: 37 1/2" in

Size 6- Bust: 351/2 in- Waist: 27 1/2" in- Hips: 38 1/2" in

Size 8- Bust: 361/2 in- Waist: 28 1/2" in- Hips: 391/2" in

Size 10- Bust: 37" in- Waist: 29 1/2" in- Hips: 40 1/2" in

Size 12- Bust: 38" in- Waist: 30 1/2" in- Hips: 41 1/2" in
FARAH NAZ NEW YORK offers free shipping, minimum purchase $50 or up & free return to all locations in the United States. 
 Shipped via USPS, UPS or FedEx.
 All domestic deliveries require 3 to 6 business days to arrive after your order ships depending on your locations
Share
FAQ
Once your order has been shipped, we will notify you via e-mail of the shipment status. This e-mail will also provide you with tracking information and the ability to access the status of your order from the convenience of your computer
Farah Naz will accept your free return or exchange of unworn and unwashed with hand tag on merchandise only. Return is only allow on your expense with in 20 days after the product has arrived
As soon we receive your order we start processing it. If the order has been submitted and we have started working on it then it can't be cancel.
It is an e-commerce platform that allows us to provide to our international clients the ability to shop at Farah Naz.US in the US currency with competitive shipping costs and delivery times.