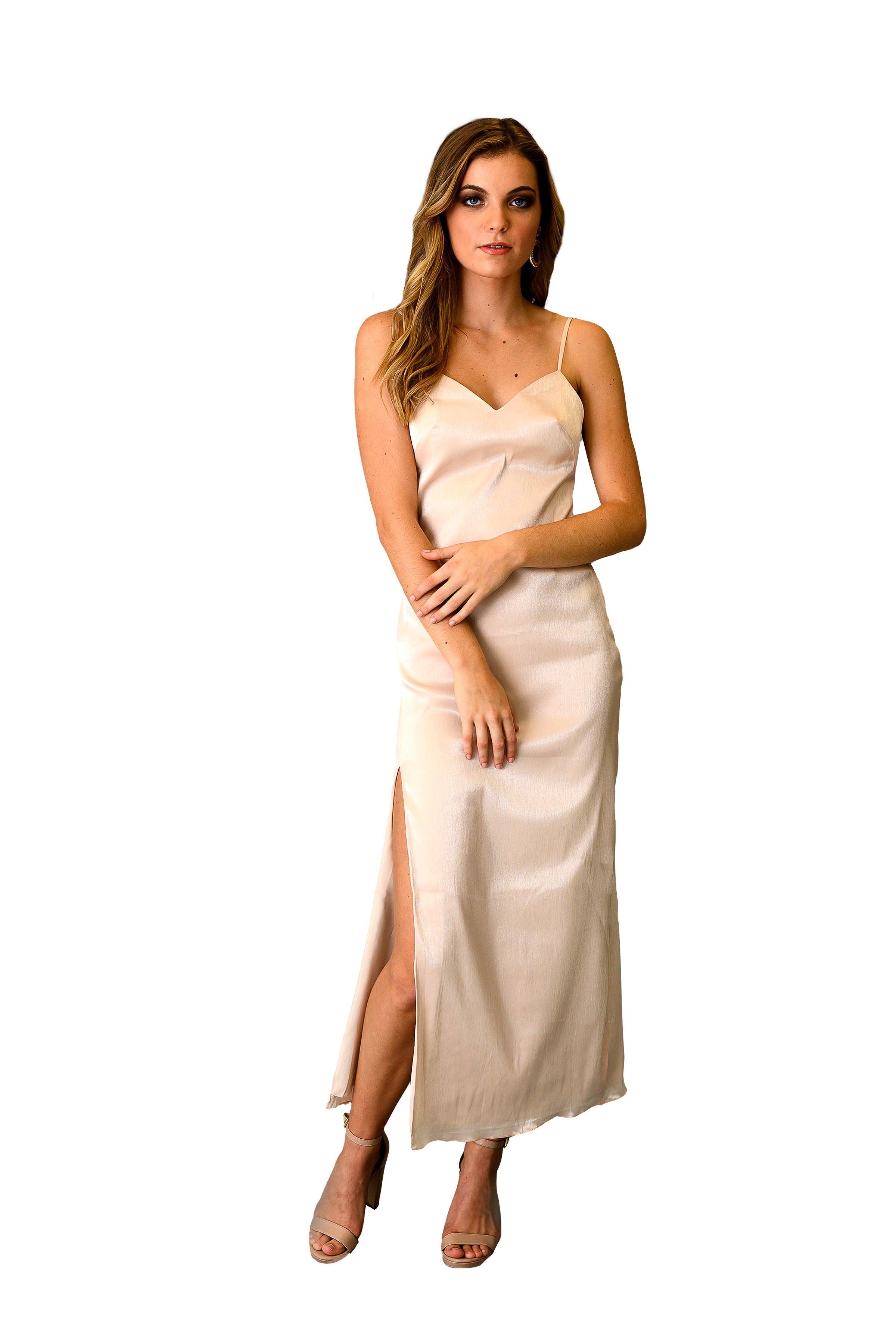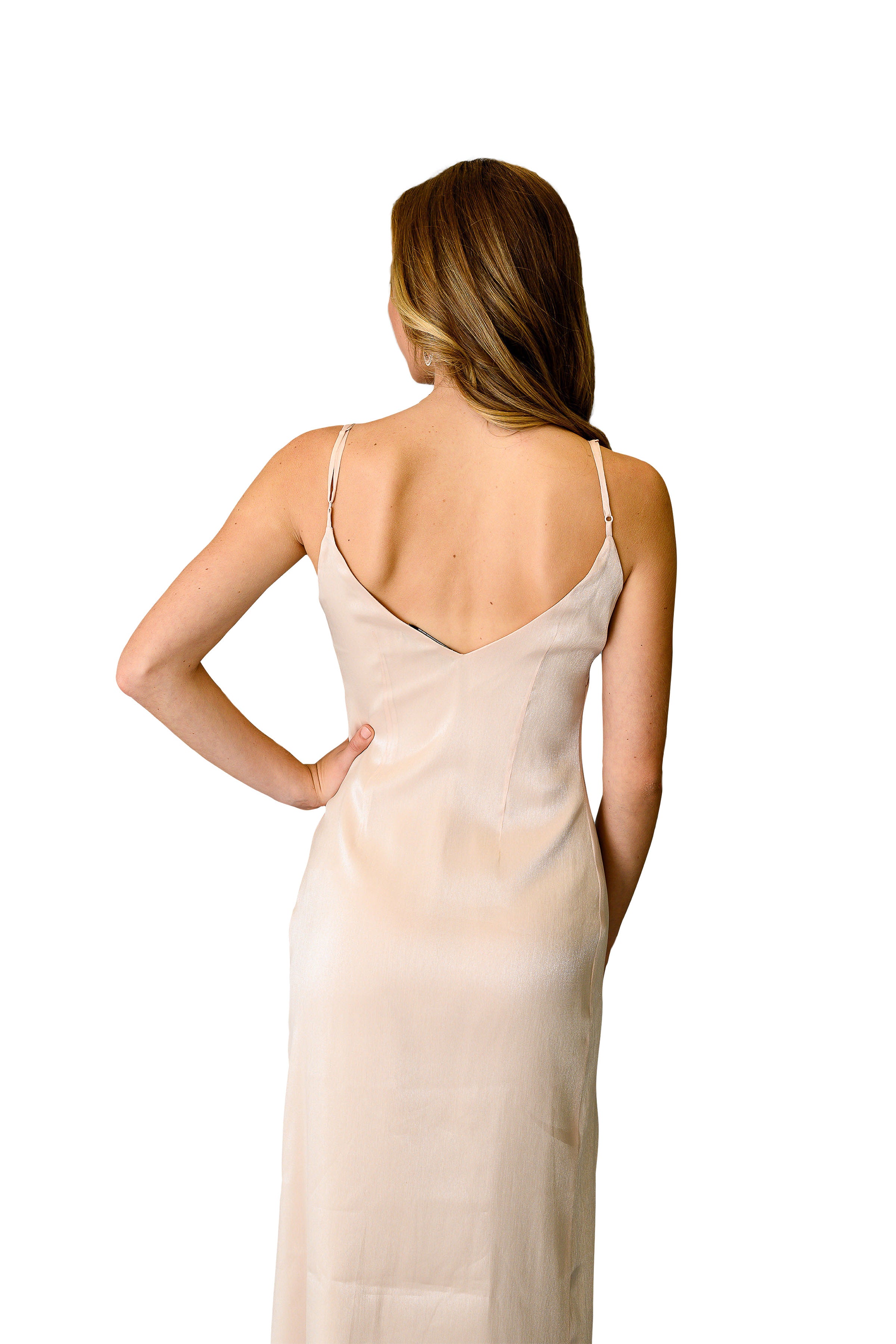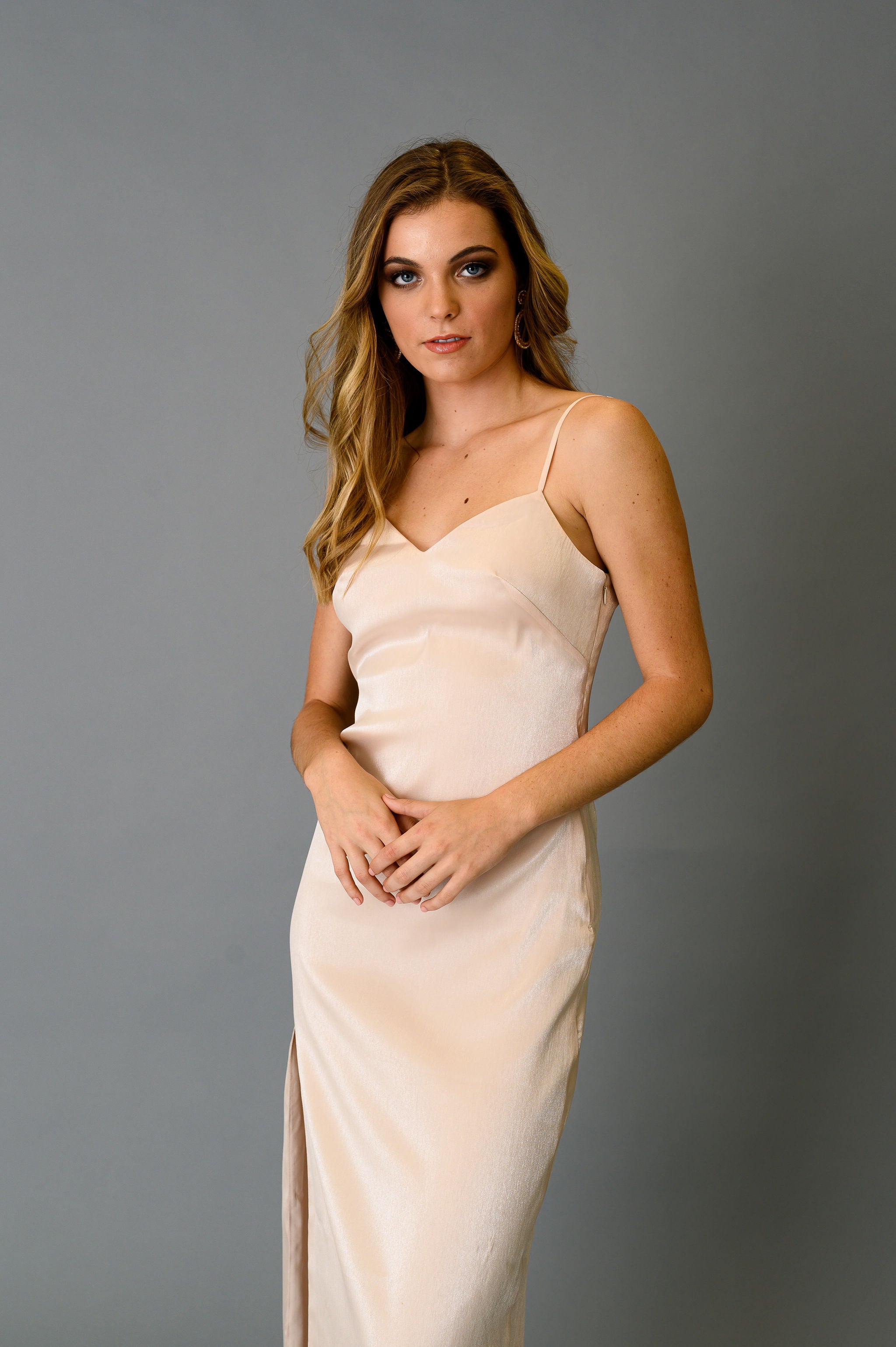 Formal Midi Camisole Dress
The Slip Dress is a shimmery ankle-length gown with a titillatingly low back and a suggestive thigh-high slit up the side. A far cry from modest, this risqué sleeveless dress is for those who want some literal skin in the game. The best outfit choice for Spring/Summer parties or wedding occasions.
In the Spotlight 
Shimmery Rose Gold midi slip dress
Spaghetti straps that can be adjusted for fit
A shallow V-neckline at the front
A deeper V-neck at the back
A thigh-high side slit
Fit fluid enough to fit between standard sizes
Refined hemline
Invisible side closure
Imported.
Model's Height: 5' 7", Size: 4/ S
Size Guide
True to Size:
Size 6- Bust: 351/2 in- Waist: 27 1/2" in- Hips: 38 1/2" in
Size 8- Bust: 361/2 in- Waist: 28 1/2" in- Hips: 391/2" in
Size 10- Bust: 37" in- Waist: 29 1/2" in- Hips: 40 1/2" in
Size 12- Bust: 38" in- Waist: 30 1/2" in- Hips: 41 1/2" in
 Note: Dry clean or Hand-wash
FARAH NAZ NEW YORK offers free shipping, minimum purchase $50 or up & free return to all locations in the United States. 
 Shipped via USPS, UPS or FedEx.
 All domestic deliveries require 3 to 6 business days to arrive after your order ships depending on your locations
Share
FAQ
Once your order has been shipped, we will notify you via e-mail of the shipment status. This e-mail will also provide you with tracking information and the ability to access the status of your order from the convenience of your computer
Farah Naz will accept your free return or exchange of unworn and unwashed with hand tag on merchandise only. Return is only allow on your expense with in 20 days after the product has arrived
As soon we receive your order we start processing it. If the order has been submitted and we have started working on it then it can't be cancel.
It is an e-commerce platform that allows us to provide to our international clients the ability to shop at Farah Naz.US in the US currency with competitive shipping costs and delivery times.